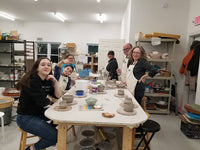 Private Parties
We are pleased to offer private special events and parties for all ages. Lets us plan your next birthdays party, bachelorette party, family gathering and/or just a fun night out with friends. 
Wheel Party: 9 max people.  2 hours $65 per person minimum of $195 or 3 people.   After a demonstration on how to throw on the wheel, each participant will have an opportunity to make their own pots on the wheel (up to 2 each). They will then have a chance to decorate them with more clay for handles, use stamps for texture and special paints called underglazes to add color. From there, your work will be dried, bisqued fire (first firing), then dipped in a clear glaze and re-fired.  The end result are fully dinnerware safe, microwavable, and dishwasher safe pottery.  This processes take up to 3 weeks.  If you are not able to come back to get your work, we will safely pack and ship it to you at your expense. 
You are welcome to bring your own food and drink to be enjoyed at the studio. 
Private Parties