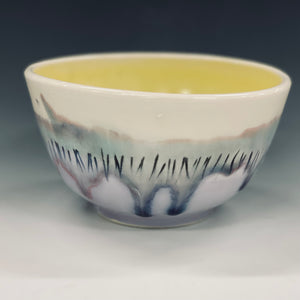 Magic Lavender Liz Proffetty Ceramics Item#CB11
Regular price $35.00 Sale
16 oz Hand thrown porcelain with both satin smooth and glossy artist produced glazes. This lavender glaze is called "Magic Lavender" due to its mesmerizing ability to change colors when placed in natural or artificial light. Depending on the light source, this glaze will appear lavender, pink or even a grayish-blue. 
This piece invokes images of early morning fog that reflects and changes color with the rising of the sun. Encompassing that sublime time of transition and waking. The top half of the piece shines like glass while the bottom is smooth as satin. 
Each one of my pieces reflects the ethereal and evolving scenery of Maine's natural landscapes. From the vibrant green mosses and pine forests of spring, the hazy fields of wildflowers on the hottest days of midsummer, the salt marshes and seashores at sunset, the red and rocky blueberry fields in autumn, and the sleeping winter worlds laying dormant under blankets of heavy snow. In addition to imagery each piece is created in a manner that enables the user to feel the physical effort and joy put forth in its making. Every object's surface offers individual texture and form. Through the incised lines of my tools, the sweeping of liquid clay from my brush, and the impressions and folds from the work of my hands, a piece is created that is truly and wholly unique in a way machine manufacturing can never authentically replicate.